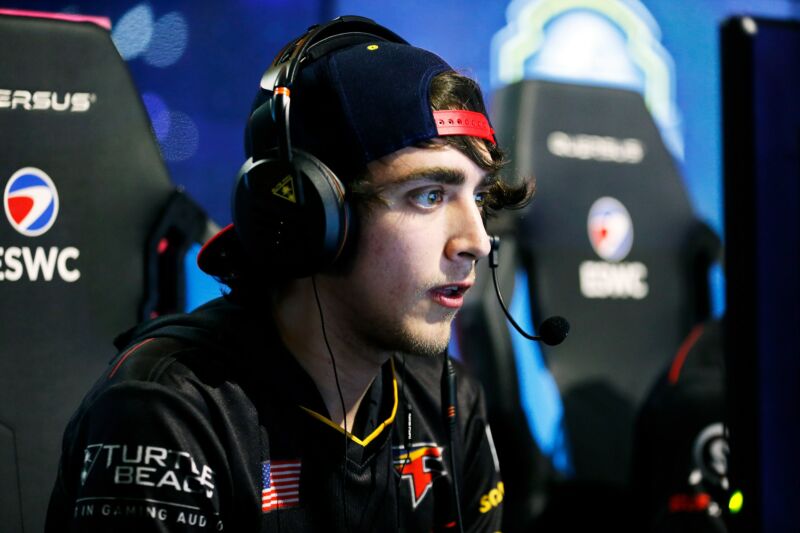 Enlarge / James Eubanks competes during a Call of Duty final in 2017. (credit: Chesnot | Getty Images)
In 2008, James "Clayster" Eubanks, then 16, decided he had what it took to be the number one Call of Duty player in the world. Growing up in Virginia, Eubanks owned all the latest consoles and specced-out gaming PCs; his house was the first on the block to have DSL. Now, he put all that practice to use, grinding up the Call of Duty ranks every single day, balancing his competitive ambitions against school, part-time jobs, girls. Playing the game professionally wasn't an established career path yet, but there eventually came to be a loose circuit of tournaments. "It was really hectic," Eubanks says. "But it became more and more sophisticated as the years have gone on." Every year, tournament prizes got a little bigger. The competition got harder. He got more famous.
Then, the esports industry ballooned, as the massive popularity of League of Legends and Starcraft II esports kicked off a wave of big-money sponsorships and international stadium events. Publisher Activision began looking at competitive Call of Duty through a new lens. In 2020, Activision launched the Call of Duty League: 12 teams with five players each, representing 12 different cities around the world. As a top competitor playing on the Dallas Empire, Eubanks helped his team take the first Call of Duty League championship in July. He was thrilled. Then everything changed.
In August, Activision decided that professional Call of Duty games should be four-versus-four, not five-versus-five. Twenty percent of the league's players had to go. Days after his big victory, the Dallas Empire dropped Eubanks, who had been designated fifth on the roster. "Got about 24 hours of happiness before I got thrown back into the blender, but that's the story of my career," Eubanks wrote on Twitter.
Source: https://arstechnica.com/?p=1705539
Proactive Computing found this story and shared it with you.
The Article Was Written/Published By: WIRED