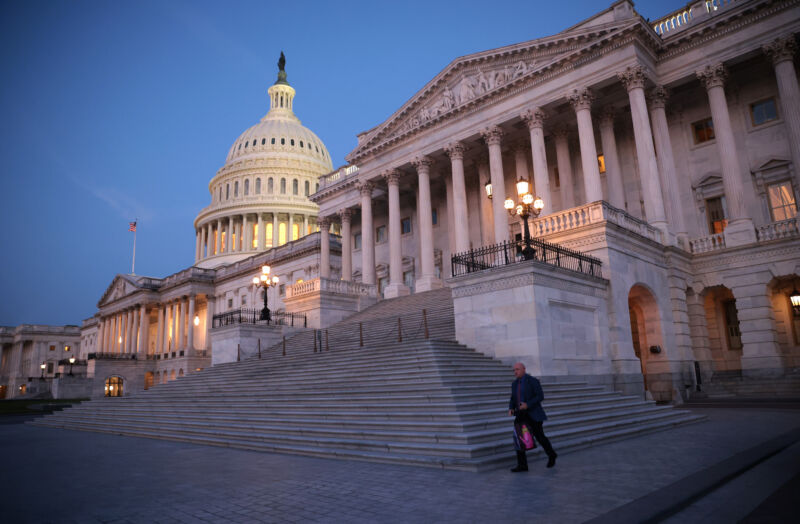 Enlarge / Sen. Mark Kelly (D-Ariz.) departs the US Capitol at dawn after an overnight session of the US Senate on August 11, 2021, in Washington, DC. Sen. Kelly was one of three Democratic Senators who voted to gut the plug-in vehicle tax credit. (credit: Win McNamee/Getty Images)
On Tuesday night, the US Senate passed an amendment that would limit the plug-in vehicle federal tax credit. Currently, tax payers are eligible for a tax credit of up to $7,500 based on the size of the vehicle's battery for the first 200,000 plug-in vehicles from a given automaker. But Republican Senator Deb Fischer of Nebraska introduced a non-binding amendment to the $3.5 trillion budget bill that would means-test this tax credit, restricting it to tax payers with incomes below $100,000.
Perhaps more significantly, Sen. Fischer's amendment also restricts the tax credit to EVs that cost less than $40,000. Consequently, the only battery EVs that will still be eligible for the tax credit will be the Hyundai Ioniq Electric ($34,250), Hyundai Kona EV ($38,565), Mini Cooper SE ($30,750), and the Nissan Leaf S Plus ($39,220). Chevrolet's Bolt EV and Bolt EUV are both below the price threshold, but in 2019 the automaker sold its 200,000th plug-in vehicle, at which point the tax credit began to phase out.
The amendment passed, 51-48. Senator Fischer took to Twitter to say that "everyday Americans are living paycheck to paycheck because of the sharp rise in costs due to #Bideninflation. We shouldn't be subsidizing luxury vehicles for the rich using money from hard-working taxpayers." (Inflation is mostly being driven by high prices for used cars, which in turn is a result of the chip shortage.)
Source: https://arstechnica.com/cars/2021/08/senate-votes-to-restrict-ev-tax-credits-despite-climate-crisis/
Proactive Computing found this story and shared it with you.
The Article Was Written/Published By: Jonathan M. Gitlin